Articles
Enhance Customer Experience in Insurance with Analytics
Much of the analytics employed in the insurance industry is focused on identifying and reducing fraud; estimating and managing risk and customer retention. Reports from the insurance industry consistently highlight that the quality of customer experience remains the biggest factor driving customers to remain loyal or switch to another insurance provider. Hence, the focus should be on how to improve the quality of the customer experience rather than reducing fraud.
A significant proportion of insurance today is provided through brokers. The first time a customer makes contact directly with the insurance provider is when they are in a position to make a claim. This makes it difficult for an insurance provider to build a relationship with their customer. The goal for the insurance provider is to ensure that the experience of the customer within this claims process is a satisfactory one and we address a number of ways in which the experience of the customer can be improved upon with the use of Predictive Analytics.
Predictive Analytics in Advance
At least a month in advance of a call being received from a customer, Predictive Analytics can be employed to predict the number of calls expected to be received, the nature of those calls and the likely outcomes. This will allow the organisation to schedule the correct number of staff with the appropriate skills at the relevant times. It also gives the organisation the opportunity to ensure there are suppliers ready to take corrective action in relation to the issues that have arisen. Once the call is received from the customer, resources are in place to handle the requirements of the customer in a timely fashion which will ensure the customer has a satisfactory experience during the process.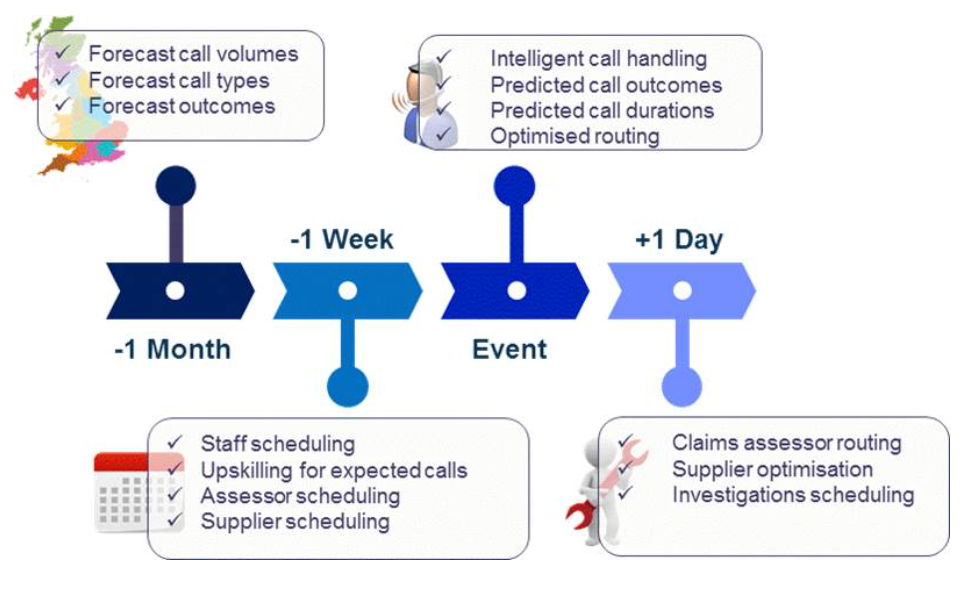 What does this look like for the customer?
Meet Michael Jones – he is the father of two young children and while out for a Sunday drive he gets distracted and drives his car off the road – he calls his insurance provider with a view to getting his car fixed. The interaction Michael has with his insurance company without using Predictive Analytics (as per the graphic below) takes 2 weeks with 2 interactions required between Michael and his insurance company. However, when Predictive Analytics are employed, Michael is informed it will take 3 days to get his car back on the road, he is recommended a garage for repair and Michael is happy to receive such a speedy response with only 1 customer interaction required. Having had a satisfactory experience during the claims process with his insurance company, Michael is happy to renew his insurance at renewal time while also recommending his insurance company to others contributing to an increased NPS (Net Promoter Score) for the insurance company.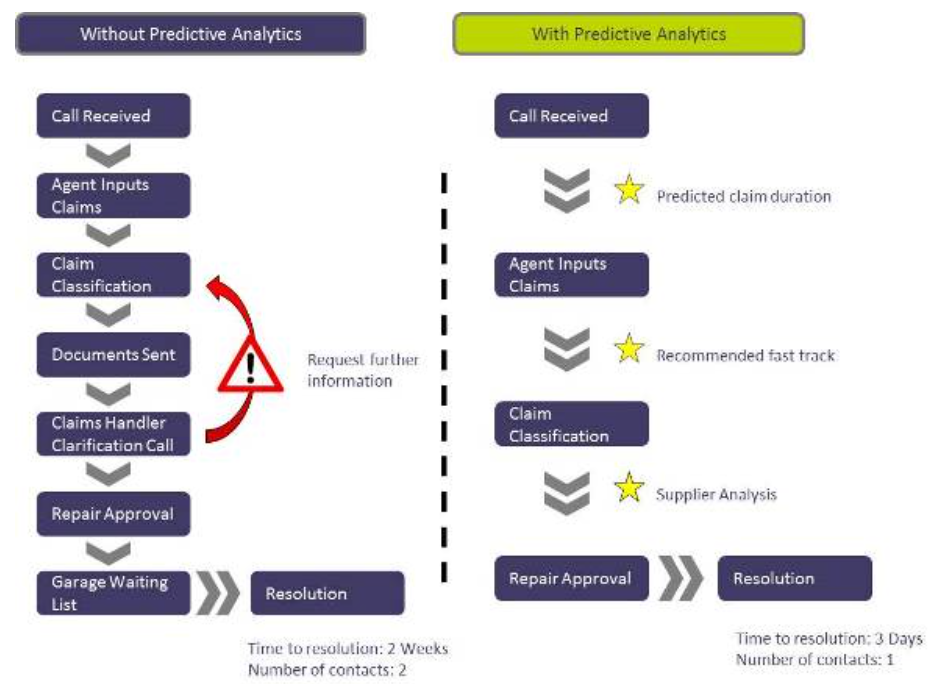 The Predictive Insurance Company
A Predictive Insurance company has analytics embedded across the organisation. For any one customer we can obtain data from a variety of sources, e.g. telephone; this data can be both structured and unstructured and can be used to give a 360° view of the customer. This is invaluable when it comes to assessing what is right for your customer and your business.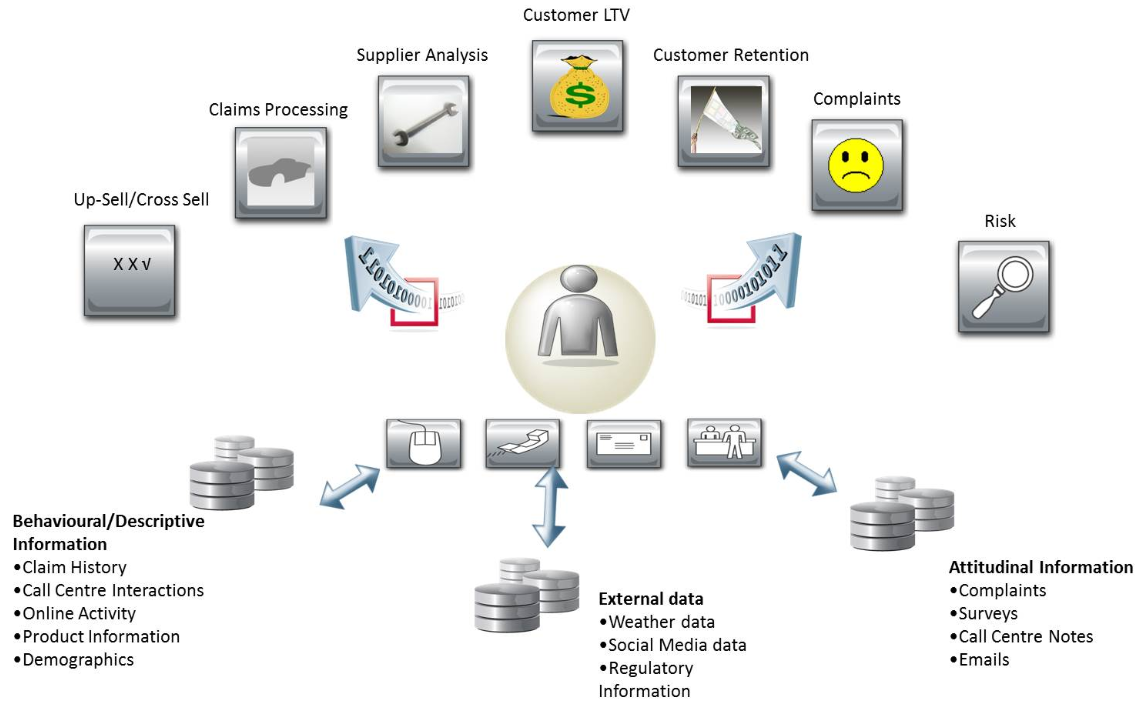 Insurance Companies benefitting from Analytics
Many insurance organisations are realising ROI benefits from engaging with Predictive Analytics. Version 1 can help you build a roadmap to integrate analytics in your organisation to realise the benefits similar to other organisations.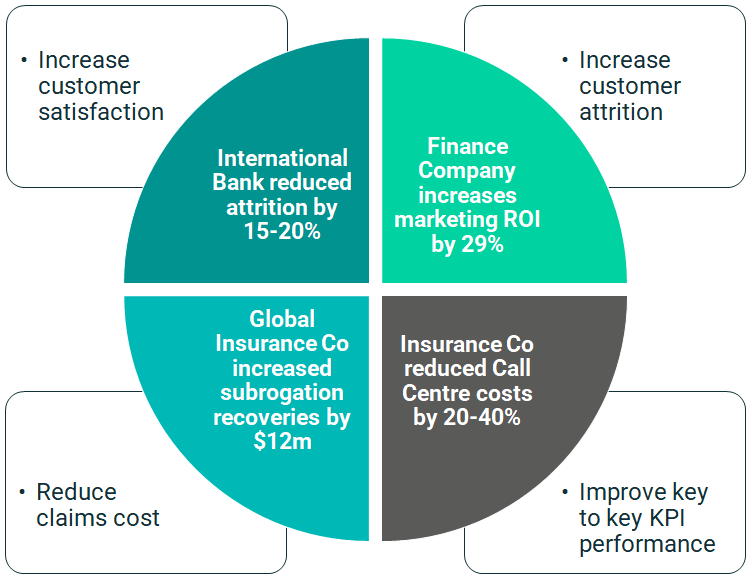 Version 1's experienced consultants are on hand to help you understand your SPSS needs – from consultancy and training to finding the best software and license type for your analytical and usage requirements. Contact us to discuss your requirement and identify the best SPSS solution for you.
Related Articles
Take a look through our SPSS Articles covering a broad range of SPSS product and data analytics topics.
Arrange a free consultation to discuss your analytical needs, and identify the best solution for you.