Articles
Analytics, Simplicity and Value – A complicated relationship?
We have often seen analytics described primarily by way of the technical complexity of the techniques. Something of a ladder that enables organisations to build upon existing analytical techniques to achieve increasing levels of business value. Take Gartner's representation below for example: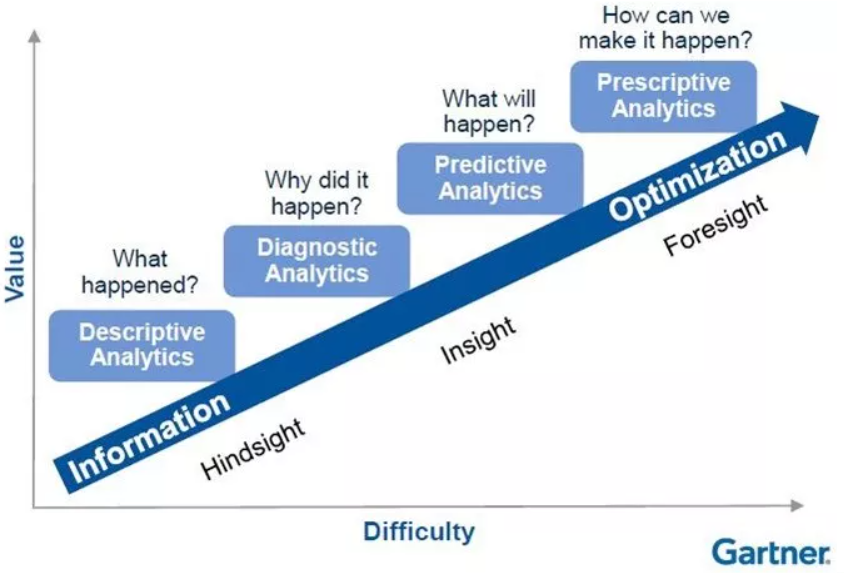 These models are used to reflect a relationship between the increasing mathematical complexity of the techniques as well as the potential value to your business. Here, descriptive analytics is illustrated as the foundation and bedrock of analytical activities but limited in the business value potential. This is where the simplification is lacking, in our experience.
Firstly, what these models don't say, is that the techniques are by no means mutually exclusive.
Consider for a moment the following examples:
A predictive model without a detailed report showing the key factors used in prediction.
A model in production for which the accuracy is degrading over time but isn't being monitored.
Recommended actions from an optimisation engine without the support of visual dashboards showing the financial impact.
These are only a few examples where descriptive, diagnostic, predictive and prescriptive techniques mesh and complement each other to ensure, maximise even, business value realisation. You could easily argue that without the basic technique, the business value might not even be realised at all. Practically, I've seen this happen countless times. To successfully deploy an advanced analytics initiative, you must consider the sharing of information and insight by way of descriptive or diagnostic analytics. Without them, you may have wasted your time. In short, you are far more likely to require a combination of techniques (and it is likely to be far more beneficial to do so) than employing one type of analytics alone.
Secondly, rather than using the analytical technique as a yard stick for business value and analytical maturity, the reality is that the business problems, once clearly defined, will lend themselves more naturally to specific techniques.
Further, it is the business problem that will determine the potential business value. For example, a service provider who seeks to monetise basic analytical capabilities as a service for their customers on data they retain on their behalf. Relatively simple techniques can be applied, and potentially provide significant returns. This problem doesn't need mathematical optimisation algorithms to be effective. Consider also the warehouse manager who wishes to reduce stock inventory. An initial basic analysis may uncover huge savings. These savings can then be sustained in the future by something more complex like stock optimisation, but most of the savings will have come from the original basic analysis. There are business problems solved with prescriptive analytics that help uncover marginal additional value, and there are business problems solved with basic graphs and charts that uncover huge additional value. The opposite scenario is also true. What is also true here is that this still says nothing about how easy it is to deploy or implement the results of the analytics initiative.
So, what advice would we give?
Well, consider the relationship between value and feasibility (irrespective of the type of analytics). From this, it should be clearer. The straight forward, simple but high value problems? Well, they are in your sweet spot, achievable and beneficial. They might help you jump start a journey on analytics. The difficult but low value ones are probably loss leaders and might not even be worth your time at all!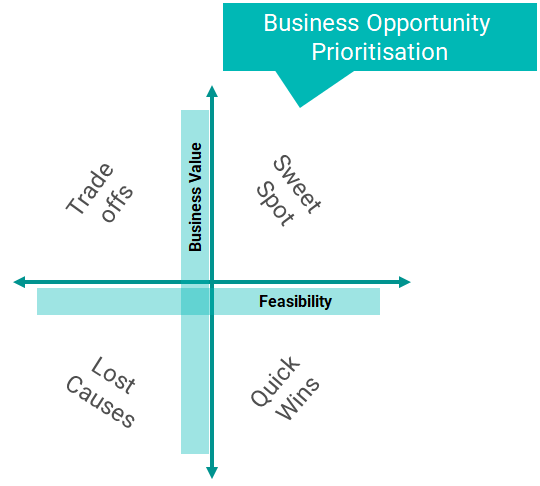 So the old adage to start with your business problem and objectives holds true here again. Identify your question(s), then what kind of analytics is best suited, particularly given your capabilities in that area and how you intend to implement it. This is a better approach than trying to do something technically complicated just because it may (or may not) yield more business value.
Version 1's experienced consultants are on hand to help you understand your SPSS needs – from consultancy and training to finding the best software and license type for your analytical and usage requirements. Contact us to discuss your requirement and identify the best SPSS solution for you.
Related Articles
Take a look through our SPSS Articles covering a broad range of SPSS product and data analytics topics.
Arrange a free consultation to discuss your analytical needs, and identify the best solution for you.